Gorgeous Painted Hills Elopement | Portland Wedding Photographer
Painted Hills Elopement


Portland to Painted Hills
We took our friends Rev and Anya into Central Oregon to capture an inspirational Painted Hills Elopement. The trek from Portland is about a 4 hour drive with minimal cell reception as you get closer to the Painted Hills. We got an early start and set out for Central Oregon to catch sunset. The light was working with us and we were able to capture beautiful images. We stayed at an AirBNB in Mitchell, Oregon which is about a 30 minute drive to the Painted Hills.
About the Painted Hills
"Oregon's Painted Hills are a beautiful display of earth's artwork and history. Layers of black, gray, yellow, gold and red soil tell a story of the area's geological transitions and provide visitors with stunning vistas. Part of the John Day Fossil Beds National Monument, the Painted Hills Unit is a visual reminder that what we now know as desert was once a very different place – an ancient flood plane home to early horses, camels and rhinoceroses!
The black soil is lignite consisting of vegetable matter from the flood plain. The grey soil is composed of mudstone, siltstone and shale, and the red is laterite, a soil formed in warm, tropical climates". - Tyson Gillard, Outdoor Project
The Inspiration Behind This Painted Hills Elopement Shoot
My inspiration for the Painted Hills Elopement shoot came from wanting a different landscape than what we normally feature which are grand vistas, dramatic coast scenes, or lush green backdrops. I wanted to expand and represent Oregon's vastly different climates. I have been wanting to have a bridal shoot in the Painted Hills since 2014 but I never found anyone interested in making the trek out there until my dear friend Anya mentioned she would like to check it out. She and Rev had a small intimate ceremony on the Oregon coast and before Anya sold her dress, I wanted the opportunity to capture them on film in a different environment. The whole experience was so good. I live for shoots like Anya and Rev's where I can let my creative abilities release and flow freely. I had a BLAST as a photographer but more importantly...we created lasting and fun memories that fostered our friendship even further.
Painted Hills Elopement Photos: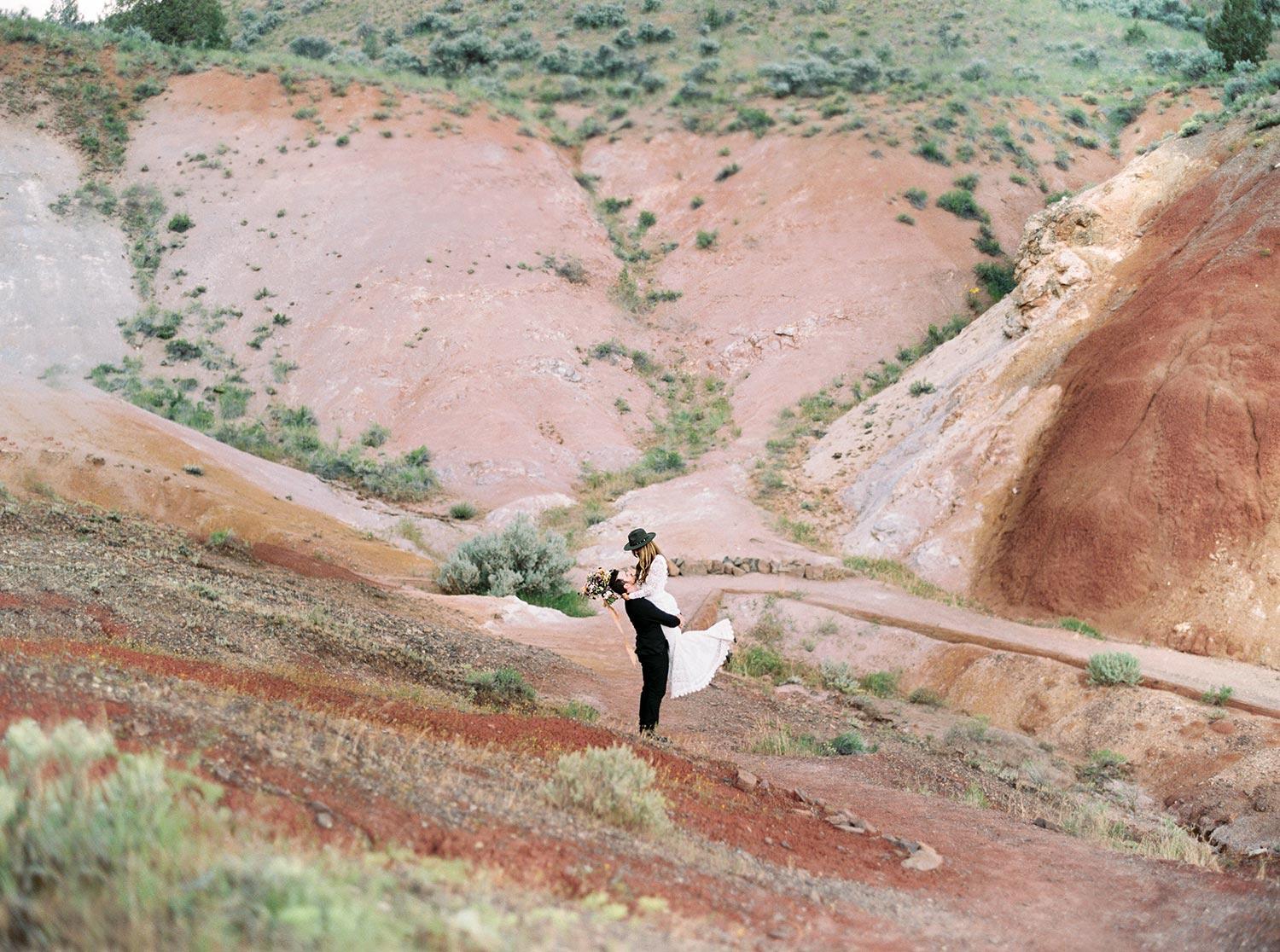 Collaborators:
Check out these other adventurous elopements that we've captured: